Summary
You'll need a charging cable to plug into most public chargepoints, and at home if you choose a point without a tethered cable. This guide is to help you pick which charging cable you need.
Your plug-in vehicle will have either a type 1 or type 2 AC socket, so you'll need to make sure your charging cable has the equivalent connector.
Your charging cable will enable you to charge from untethered home chargers, workplace chargers and public charging points, the majority of which require you to bring your own cable*.
Rapid chargers (and a few public AC chargers) have "tethered" cables meaning you do not need to use an additional cable.
EV cables vary in length, current rating (usually 16A or 32A) and can carry single or three-phase electricity.
* Please be aware that smart charging cables and adapters aren't permitted on the Pod Point Network.
When will you need a separate charging cable?
You'll need to use a charging cable if you want to charge from a chargepoint (or socket) that doesn't have a cable attached. Typically this will be when using AC chargepoints on public networks or home chargers that have universal sockets.
While you will generally get a lot of use out of a charging cable, in some situations it won't be required because the chargepoint will already have a cable attached.
For example, you can choose to get a tethered chargepoint installed at home while rapid chargers, and a handful of public AC units, also have tethered cables attached.
| Socket type | Where to find | When to use |
| --- | --- | --- |
| 3-pin plug | Traditional domestic socket. | Can do the job in an emergency – albeit slowly. But not best practice to use long term as they are not designed to handle charging loads for extended periods. |
| Type 2 | Standard AC charging socket, found in public charging points and non-tethered home chargers. | These sockets are perfect for the job of charging cars, use them as often as you can. |
Find out more about the different socket and EV connector types.
Tip: Your car will almost certainly come with a charging cable. However, some only offer cables that work with domestic 3-pin plugs. We recommend you check with whoever you are buying/leasing your electric car from that a Type 2 charging cable will be provided.
If you don't have one or want a spare, you can order one from Pod Point when purchasing a Home Charger.
How do I choose a charging cable?
EV charging cables connect to the chargepoint socket on one side and to the vehicle socket on the other side.

If you need a charging cable, then you will want one with a Type 2 connector. The process for selecting a public cable goes as follows:
Pick the right connector for your car – Check whether your car is Type 1 or Type 2 using our car guides. You will always want a universal Type 2 charger plug connector.
Choose an appropriate length cable – We recommend 7.5m as a good compromise between ease of use and ease of storage, but you can get shorter cables (easier to store), or longer cables (offer more reach).
Pick a suitable current rating for your car – You at least want one that matches your max AC charge rate (16A = ~3.6kW, 32A = ~7kW for single phase), but getting a higher rated cable means you would be able to charge another car at the higher rate, so may be more future proofed.
Tip: For public chargers to remain safe and in service, it's important to only use approved charging equipment. Adapters and "smart cables" currently on the market shouldn't be used for public charging as they pose a safety hazard and could damage the chargepoints.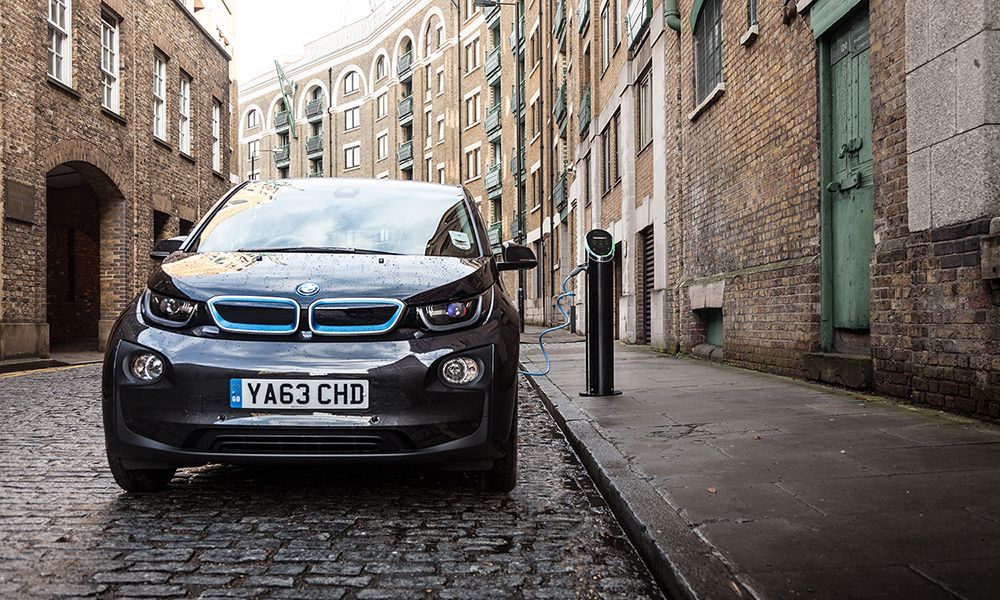 Choosing a charging cable examples
Car
Car-side connector
Cable length requirement
Max car current rating
Single/three-phase?
Cable choice
2018 Jaguar I-PACE

Type 2
Long
32A
Three-phase
– Type2-Type2
– 7.5m
– 32A
– 22kW*
2018 Mitsubishi Outlander
Type 1
Normal
16A
Single-phase
– Type1-Type2
– 5m
– 16A*
– 3.6kW*
2015 Nissan LEAF
Type 1
Very long
32A
Single-phase
– Type1-Type2
– 10m
– 32A
– 7kW
2019 MG ZS EV
Type 2
Normal
32A
Single-phase
– Type2-Type2
– 5m
– 32A
– 7kW
* Though the Mitsubishi Outlander can only draw 16A, getting a 32A, 7kW cable would be recommended should you be likely to use this cable for any other electric car in future
Tip: Check our vehicle guides to see your car's max charging rate.
If your car can draw three-phase electricity we recommend spending a little extra and getting a three-phase cable. While you are unlikely to have three-phase power at home, you never know when you might find a three-phase charging point and the additional charge rate is always a bonus.